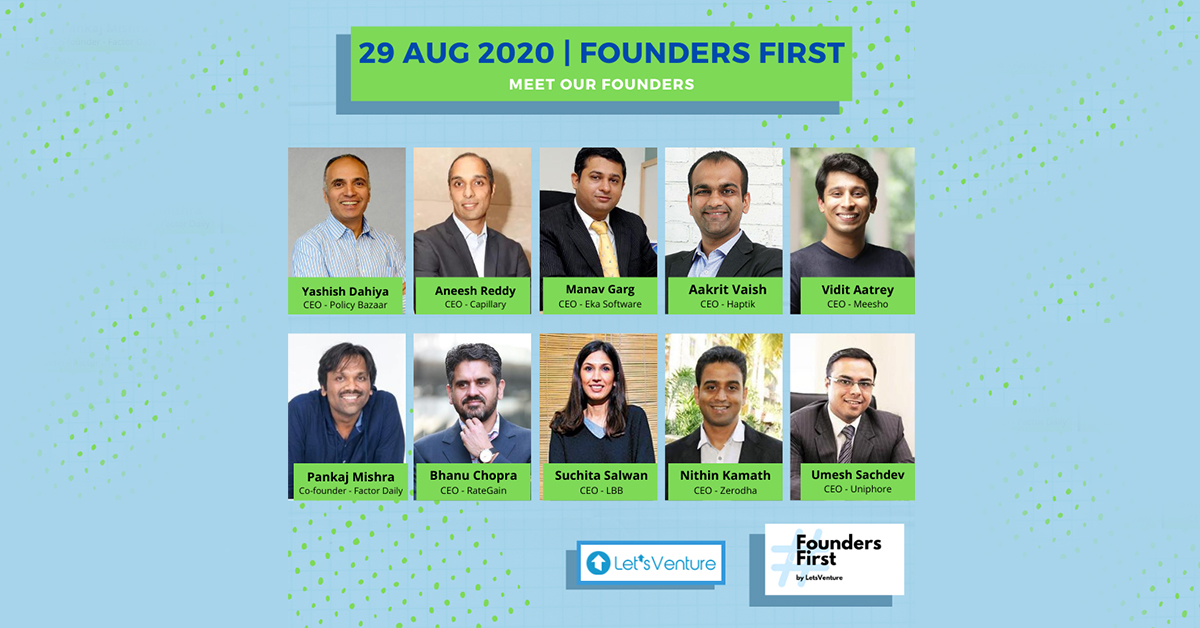 LetsVenture's Founders First is an online event that enables interactive and hands-on conversations between founders and operators. We've divided the day into three separate tracks because we get that it can't be one-size-fits-all.
Overview
B2B 
Track 1: A step by step guide to building out a cross-border SaaS enterprise
Speakers: Umesh Sachdev, CEO, Uniphore, and Priya Rajan, MD, SVB
Track 2: What it takes to grow revenues from $1M to $10M?
Speakers: Aneesh Reddy, CEO, Capillary, and Manav Garg, CEO, Eka Software
Track 3: 

AMA with a VC focused on investing in B2B startups
B2C 
Track 1: Building out and optimizing your "brand" with communities
Speakers: Suchita Salwan, CEO, LBB, and Pratik Poddar, Nexus Venture Partners
Track 2: How can partnerships help you build your business?
Speakers: Yashish Dahiya, CEO, Policybazaar
Track 3: AMA with Rajan Anandan, MD, Sequoia Capital
Fundraising
Panel 1: Bootstrapping vs. Fundraising
Speakers: Nithin Kamath, CEO, Zerodha, Bhanu Chopra, CEO, Rategain, Aakrit Vaish, CEO, Haptik and Vidit Aatrey, CEO, Meesho
Panel 2: What do VCs expect to see from startups across stages?
Speakers: Anjali Bansal, Avaana Capital, and Sanjay Nath, CEO, Blume Ventures
Are you a startup looking for investments? Register now to participate in our closed-door pitch sessions with 10+ investors (VCs & Syndicate Leads)
---
Click here to know more about our offerings.
Stay tuned for more details.
ESOP & CAP Table
Management simplified
Get started for free