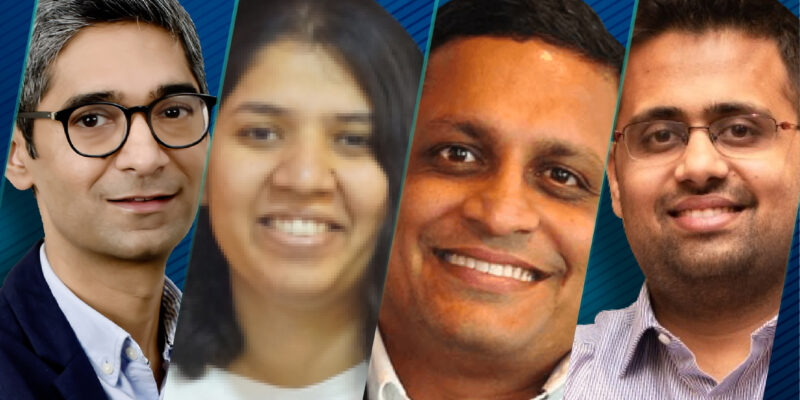 ESOP
Webinars
Decoding the secrets for the perfect Investor Relation and Reporting
Investors look at your company from outside and therefore require access to the information from within. Whether you're an SMB or a VC-funded startup, how you report your financials and your progress to your investors can play a major role in your early success. With competition for funding growth, a well-crafted, informative and in-depth investor report is ever more valuable. 
What have successful founders done well, and what do investors expect? 
Find out from folks who have sat at both sides of the table: 
Co-founder of Goodera and Managing Partner at Campus Fund, Richa Bajpai. Campus Fund is Asia's first dorm room fund.

Archi Bagchi, Co-founder of Thoucentric.

Thoucentric is a niche management consulting company. 

Eklavya Gupta, Co-CEO of Recur Club.

It is a trading platform facilitating financing for all types of companies with recurring revenues.

Siddhartha Sharma, Head – trica equity, a SaaS product for cap table and ESOP management 

In conversation with Harshil Lakhani of Recur Club
Key Takeaways from the Webinar- 
Harshil: How are you maintaining relationships with your investors, and what reporting do you carry out for them? 
Archi: We conduct investor/shareholding meetings where we share the revenue and profit performance with all the stakeholders because our purpose is to explain why our investors have joined us. We must maintain visibility through the profit journey from a revenue perspective, including our projections for the next three to four quarters. Additionally, we ensure transparency on all expenditures, operational cash flows, overspendings, etc. Our investors invested in us for our growth, and it's our responsibility to show where the money goes.
"Ensure transparency in your plans, spending, overspending, operational cash flow, etc. Since Investors look at your company from the outside, they need information from within."
Harshil– Richa, How do you feel from the other side of the table when you meet these very young entrepreneurs for whom this would be the first time meeting the institution and investors. So how do you feel about them managing relations with you and their metrics to you?
Richa– There's quite some handholding initially Harshil, because these are the entrepreneurs getting into the business for the first time. Still, they know the metrics that matter for their business today, and that's entirely what counts. As investors, we are responsible for bringing them the help they require in building and growing their empire. Our part is to ensure constant interaction with the entrepreneurs based on their company's stage, whether they are trying to build an MVP, launch products in the market, or whether they're trying to raise the next round of their funding with investors. 
I call it a co-creation of what we're building with them from as small as a project they are doing in the dorm rooms to help them convert into real-life businesses. 
"Investors are the enablers, so the investor-founder relationship should be very healthy and accessible without any hierarchy. We should be willing to become the non-judgmental sounding board for them." 
Harshil: In your experience working with this space, Siddhartha, what are the different reporting types that investors generally expect from founders?
Siddhartha: While several different types of exchanges happen between the investors and the startups, in our experience, there are three types of data sets that the startups generally quote to their investors at a regular cadence.
The first is KPIs or Key Performance Indicators of a company, and they vary by the industry the startup may be operating in. For example, the reported KPIs can be ARR (annual recurring revenue) in a month or a quarter for a SaaS company. It can also be LTV (lifetime value), the net profit contributed to the whole future relationship with a customer. However, the metrics could be entirely different for a company operating in e-commerce, such as cart abandonment rate or average order value.
The other set of reporting is either based periodically or just an update about the financial quarter regarding the highlights or the low lights. For example, if the company undertook a global expansion, how was the experience and the overall performance or challenges, and how did they overcome them.
"Founders will have to leverage a platform that helps them consolidate data and do seamless reporting to their investors to receive continuous feedback from the investor as well." 
Harshil:  Why do you think founders struggle to maintain regular reporting to investors?
Siddhartha: I think simply put, it is because of a lack of a platform that helps startups and founders to consolidate data and report seamlessly to their investors, so right now, in our experience, what founders do is consolidate data from various databases like KPIs or expenses or any other databases they would want to report to their investors and several different sheets so they will consolidate this then prepare a report and send it over and to their investors then they keep track of the dispatch in delivery. I mean not a physical test of dispatch but an e-delivery of these reports to their investors. So it continues to be a challenge because this is a lack of feedback from the investor as well, and the company would only know they have sent an email and no clue whether the investors have well-received it or not. 
What we have done at trica is launch an investor reporting solution integrated into the cap table management platform, using which companies can easily consolidate data from the resources where they have been maintaining these KPIs, add them to pre-existing templates on the product along with a commentary for the past quarter. The reports can be sent to their investors by giving them access to trica equity or simply clicking on a secure link via email. We're aware that this is a big problem for the startup community today, and we've already solved it.
Harshil– Eklavya, what would be your thoughts on what sort of Reporting is required with your investors and backers?
Eklavya– So what we've been practicing and noticing so far, which works for us, is presenting the well-defined KPIs, the elaborative operational and financial metrics, etc. So it's imperative to define your key targets on what you want to achieve and how you want to achieve those. The more you break down these, it will help you strategize clearly and thus do a very clear reporting and for realizing your ups and downs like where you slowed down, what failed and how it failed, etc.
In the end, I believe that investors are in to help the founders through the different waves, and the founder's intention should be to leverage the investor's network and experiences.
"Investors are in to help the founders through the various cycles of the company & its ups and downs, thus the founder's intention should be to leverage the investor's network and their experiences." 
Click here to watch the webinar and discover best practices in dealing with investors and making the best out of it.
We hope you enjoyed this discussion by trica equity about Investor relations and reporting. Stay connected for more such discussions in the future
If you're looking for ESOP and cap-table management assistance, book a demo to learn more about our offerings.
ESOP & CAP Table
Management simplified
Get started for free