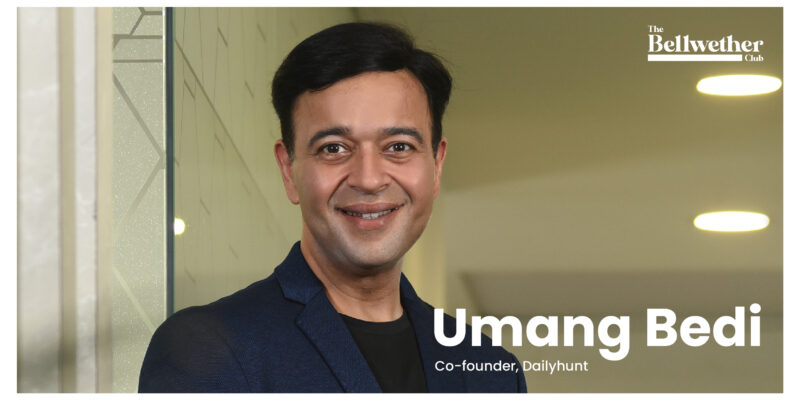 Webinars
My job is asking all the right questions, not having all the answers: Umang Bedi
By Pranav Mahajani, Head – Company Relations, trica capital
They say that we are what we repeatedly do; excellence is a habit, not an act. I see that dedication for excellence in very few people – those who have conviction in their ambition and are ready to give it their 100%. Such individuals almost can't help but be on the go. Repeating success is the only way to be. Serial entrepreneurs are the best example here. I think of them as serial leaders. To lead more than one organization to great heights is not an easy feat. It takes an outstanding person to do that – a trendsetter.
 When we decided to start a new series of interviews at trica, we named it 'The Bellwether Club' to reflect the kind of intelligentsia profiled here. And when we decided to list the most successful entrepreneurs and investors in India, one of the names that immediately came to my mind is that of Umang Bedi.
 Umang made news when he became Facebook's India head in 2016. He was the MD of Intuit India when he was hardly 28, and had also headed Adobe for five years before joining Facebook. At 40, he left the corporate world to make an impact by himself and eventually embraced entrepreneurship.
 Today, Umang is the co-founder of startup unicorn VerSe Innovation, which powers content aggregator platform Dailyhunt and short video apps Josh and PublicVibe. (Umang joined as Co-founder in 2018, at the request of his long-term friend and VerSe founder Virendra Gupta.) Recently the company raised $805 million at a valuation of $5 billion. What started as a local language content aggregator platform in 2014 has now become a multi-business conglomerate with a family of apps serving distinct use cases for large target audiences across Bharat. 
As the first guest on The Bellwether Club, Umang tells me about his journey. One of the most interesting traits I found in Umang was his clarity of thought. Read on to find out why.
Pranav
Dailyhunt has 225 million active users today on the app, and more than 100 million users on the mobile web. I'm one of them by the way. But today, the news business is a very tricky one, especially in a polarised socioeconomic milieu. What is the credo at work at Dailyhunt? What are the building blocks you keep going back to every time you think there is a deviation? And how did you arrive at these building blocks? 
Umang

We have had three core beliefs between Viru (Virendra Gupta) and myself. One, that the Internet is pivoting, and in the next four years we will get to 1.2 billion people online and 80-90% of them will consume content in local languages. The second is that when that happens, the kind of experiences that we deliver across news, entertainment, and infotainment will need to change in terms of mediums and formats of delivery and the last mile. Thirdly, whoever does this well and addresses this opportunity successfully can create an infinitely large outcome for its ecosystem of partners, creators, publishers, advertisers, investors, and of course, add value for the customer. It was with these three core beliefs that we restarted the Dailyhunt journey in 2018.  
At the time, Dailyhunt was a pure play news aggregator, bringing together content from 800 newspaper partners largely across 14 different languages. The product looked like an erstwhile BBC or CNN; just a very small deck of cards with the name of the publisher and the headline – this was the standard interface across all the 14 languages. 

We really wanted to bridge the digital divide and serve our readers a superlative content experience, by owning the mindshare, the timeshare, and eventually the revenue share of local language audiences. We wanted Dailyhunt to be the largest Indic platform that allows users to consume, to engage and to socialise with content that is not just informational but also engaging and entertaining.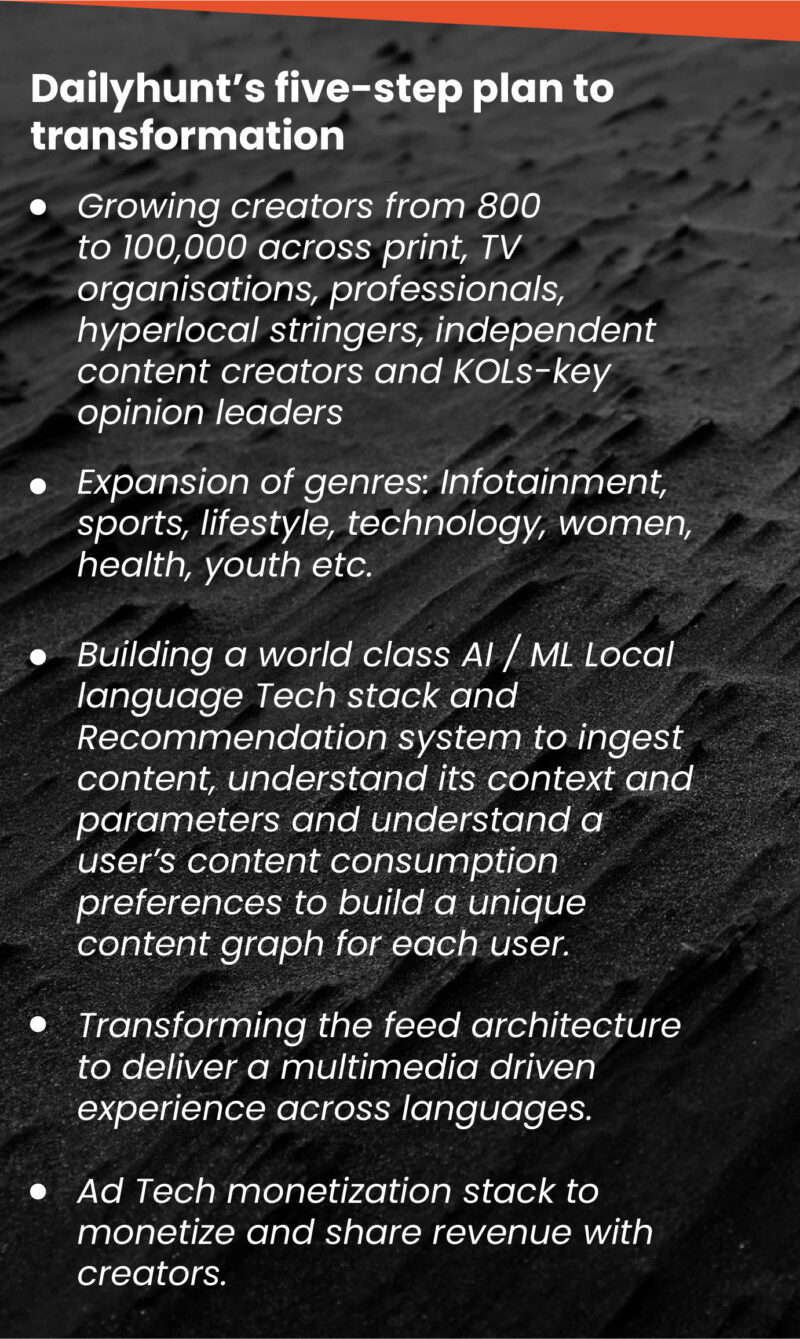 The little text cards have now become a multimedia-focused feed with viral cards, multimedia content, images, video, live TV, all embedded, and it gets dynamically updated in real time.
 Today we get two million unique pieces of content every day in 14 languages, and we now have 220 million users on the app, 105 million who come back every day and who spend 30 minutes with us daily. We have $200 million in ARR and have broken even. 
 The hardest part in this business is the creation of a business model, wherein you can monetize this content. Most platforms rely on ad networks. If advertising is their business model, and the ad network is external to you then you're never in control of your destiny, because the yields are minuscule.
 Pranav
With all these put together what you've actually developed is a platform effect. You have an infinite supply of news – you're not developing the content, you're curating it. Plus, you can go to an advertiser and tell her "I'm bringing you customers from micro managed communities across the country." 
Umang
Absolutely. Today we have audiences coming to us from 21,000 of the 22,000 pincodes in India. Half of our business comes from large enterprises in terms of advertisers, but the other half comes from small businesses. For example, in a city of one lakh people, we may have only 7,000 on the platform but maybe there are 10 businesses there that want to reach out to that 7000 people. So the advertising yield is so pinpointed. That's how we are driving growth at Dailyhunt.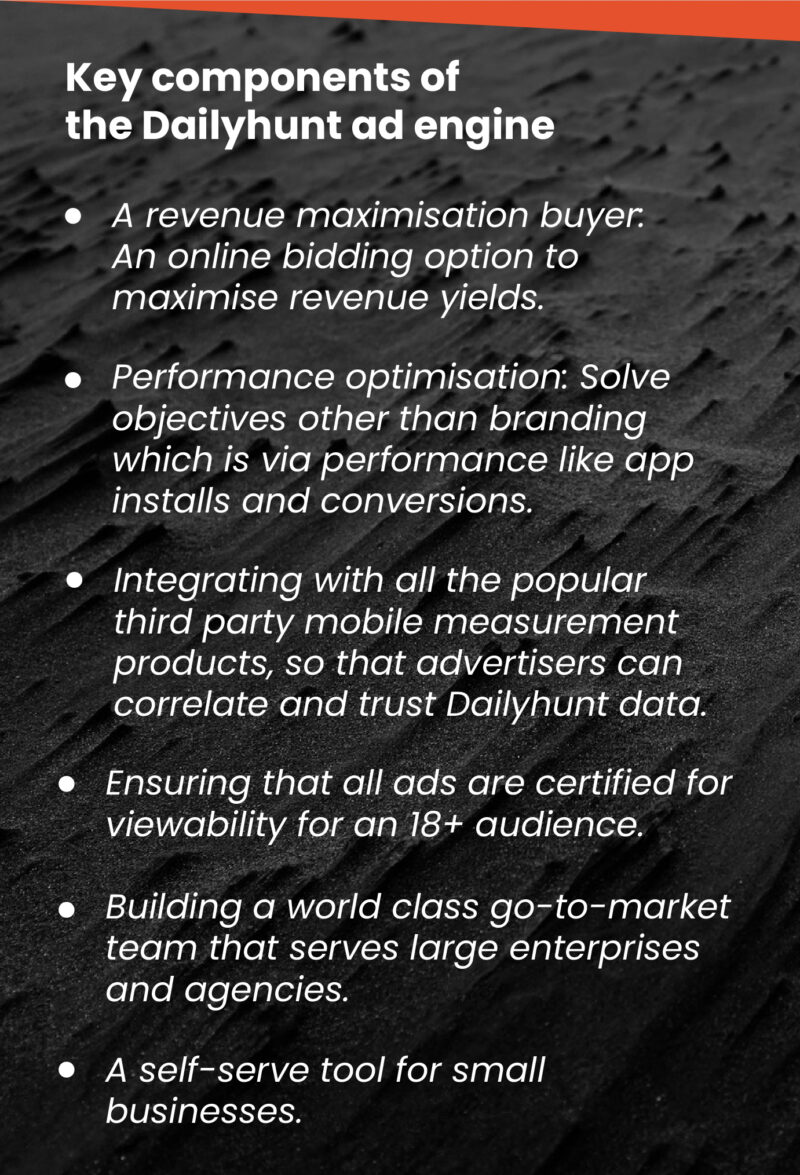 We are also present for every new handset user as we are pre-burned on Android phones, and on WhatsApp we enable sharing with deep links that invokes discoverability. Soon we will get into new, more relevant formats – audio rooms for example. (We are already present in video format via Josh and PublicVibe.)
 Pranav
And that was my next question: "How is the Josh?" The world is moving to video. And the newspaper industry across the globe is probably just going to end in the next few years.  How do you see content video creation growing?
 Umang
The definition of news is changing today. So at the core of Dailyhunt, one very big focus is on video. In fact, video is 30-50% of the overall consumption of content today. The other thing that's emerging is audio. You will see us adding that very soon. 
But the really big one, especially for local language audiences, is super hyperlocal stuff – what's happening in my taluka, what is the local corporator saying?  
To solve this, we have launched a new app called PublicVibe, which is a hyperlocal video app, where creators use a tool called "Local Star" to create content. It allows users to create a video that looks like a TV experience with the click of a few buttons. Mobile journalists can write and publish content on PublicVibe and this also serves itself on Dailyhunt.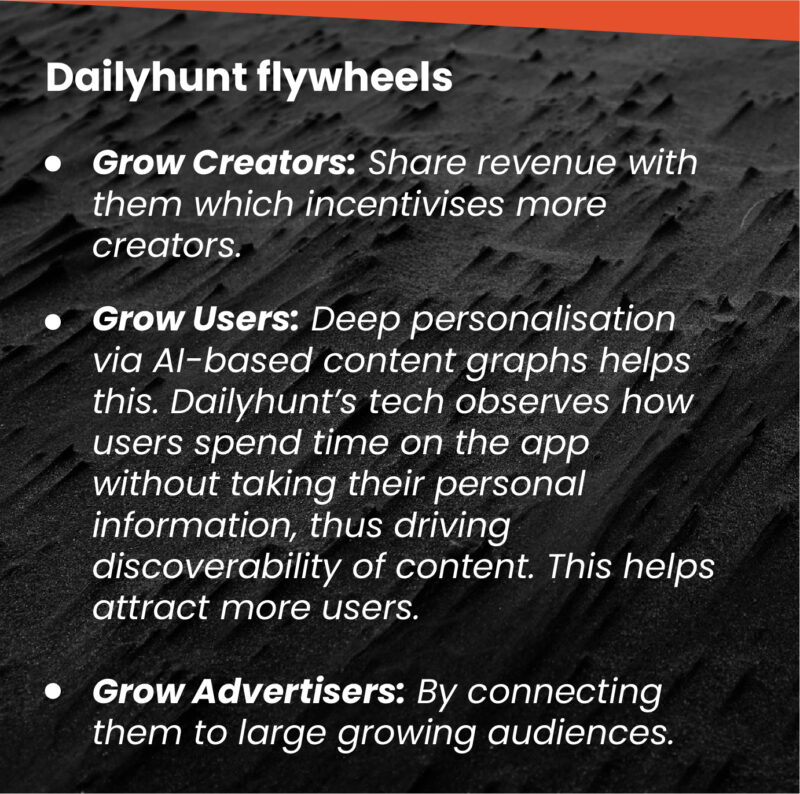 Pranav
PublicVibe is what Twitter was in the earliest days – if something was happening in my neighbourhood, I was tweeting it. You've created infinite touchpoints for individuals anywhere in the world to loop in. 
Umang
Twitter is for upper-middle class, English-speaking users, mostly from metro cities. But we are building a Bharat experience and that is a huge opportunity. 
We are the only local language focused platform in the world that is operating in India, and has cracked a three prong code: user growth, engagement, and monetization. A lot of other companies have cracked one or two of these three points; but no one has cracked this at scale – where there are 20 million monthly active users, another 135 million users on mobile web per month spending 30 minutes with us daily, and we have got $200 million in ARR. That is unique. What we have done is extend that goodness to another use case, which is short videos. We believe that short video is a phenomenally large use case. That has played out in infinite forms in China, and has created several companies valued over $200 billion and it gives us the confidence that whoever wins the space will serve this audience effectively. 
Of course, there is Instagram, but it serves largely English speaking users. Local language audiences find the content on Instagram very intimidating. It's not even aspirational, because it's all about fancy food, fancy cars, fancy fashion, fancy holidays. 
Pranav
So is an IPO on the horizon for you? Dainik Bhaskar went to IPO about a decade ago and there hasn't been a big media company that went public after that. When one goes public, the visibility is infinite. What is the path for you guys over the next 12-24 months?
Umang
Dailyhunt has become a solid business and with Josh, we want to build the same monetization engine across advertising and commerce. Once that is done in the next 12-15 months, this will be a real business with a lot of revenue. 
When you amalgamate both apps, you can prove that all three flywheels – (1) user growth and creator growth and creator  monetization,(2) user engagement and time spent, and (3) monetization which is then shared back with the creator – across your family of apps is working. That's the right time to go public.
 But let's be clear, Dainik Bhaskar is a media company; we're a tech platform and the closest equivalent to us would be Facebook or Twitter in the US and Bytedance in China.
 We believe in the next 18-24 months, we will see a massive impetus towards going public. But right now, there is no dearth of capital in private markets.
 Pranav
Let's talk about your professional journey now. You've spent time at all the bellwethers of  the tech world from Satyam to Wipro, Sun Microsystems and Symantec to Intuit, Adobe and Facebook. I want to only focus on three companies – Intuit, Adobe and Facebook. What is it about them that makes them really special, what is it that outsiders don't see? 
Umang
As an engineer, I was creating products – largely with Sun Microsystems and Symantec. I was extremely client-focused in trying to solve problems, and that led to a fair share of professional success at that point of time. Then I was an accidental CEO, when I was 27.5 years old. I led Adobe India and then Facebook. At 40, I left the corporate world to build something on my own. And this phase as an entrepreneur has been the most fulfilling and the most fun. My only regret has been waiting so long to take the plunge. 
 Intuit worked like a startup. We created five new products – two went on to be commercial successes, two were disasters, and one turned out to be a Harvard Business School case study. But customer obsession is what I picked up at Intuit – creating jaw dropping experiences for customers, that was our mission. 
 Afterwards, I joined Adobe – which, at that time, was characterised as an old school desktop software company. When the digital / cloud transformation happened, we were the first country in the world that led the business transformation. 
 It happened under our absolutely visionary CEO Shantanu Narayen for whom I have the deepest regard, because it takes guts to do what he did. We turned the model upside down and decided to build a full-fledged subscription engine or a SaaS business. When I joined Adobe, we had $3 billion in revenue and $8 billion in market cap; the latter is now close to $300 billion. India became amongst the top few revenue generating markets in the world for Adobe which is unheard of for a SaaS or subscription business.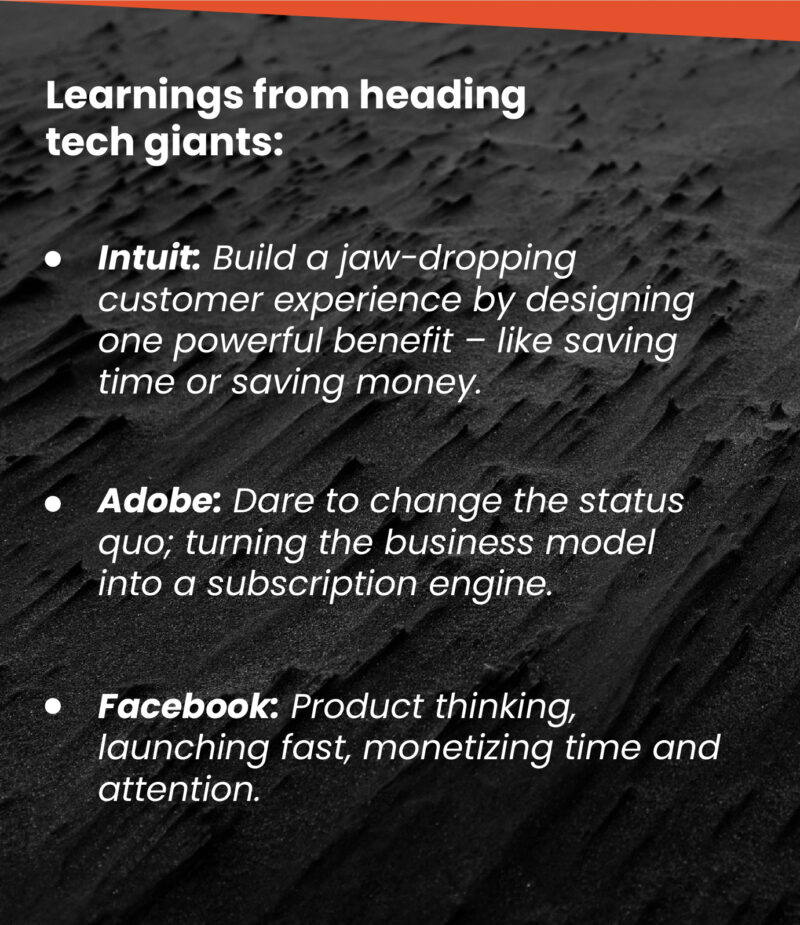 Pranav
From Adobe, you moved to Facebook… What was it like working with Mark Zuckerberg and the larger team at the company?
 Umang
I joined Facebook just after the Free Basics ban in India, and they were looking for a leader in the country to represent all their businesses. I think they met with over 250 people; so there is a part that luck played in my getting the role.
 It's inspiring to work for someone like Mark Zuckerberg who is a great product leader. At the same time, there is very special talent across the board in the company. That's a big advantage that a global giant has: the ability to attract the best global talent all under one roof. 
 India was a very small market for Facebook back then, with just about 100 million monthly users. But in under two years (by the time I left), we grew it to the largest country market for Facebook in the world. Revenue grew exponentially too. 
 I quit Facebook for very personal reasons. I was not having fun, because these jobs became less about creating products and more about managing spreadsheets and people. Also, I did not have the luxury of spending time with my family and with myself. And I weighed 140 kgs!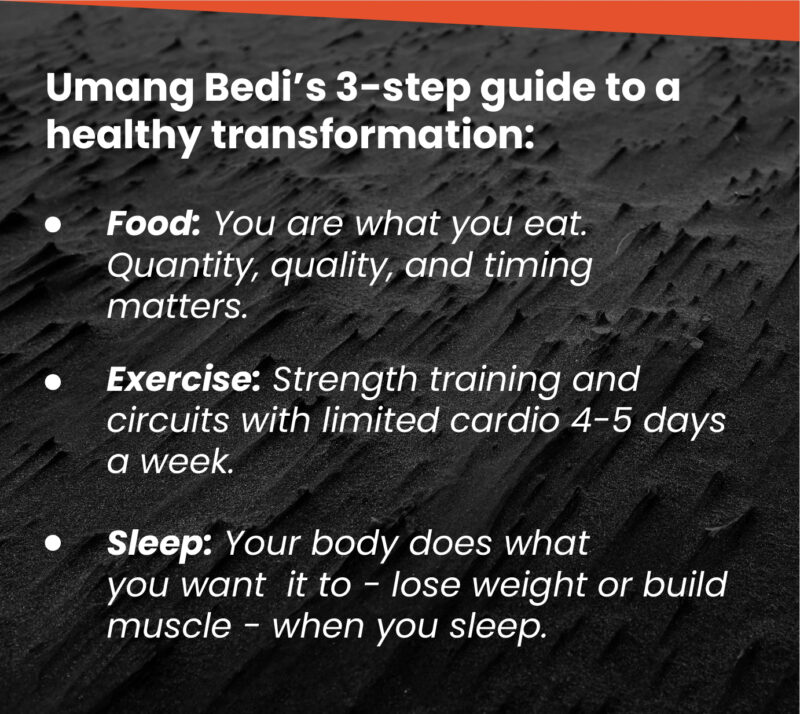 Pranav 
Tough call. You could have been Facebook MD for another 10 years, probably gone to the US and taken up a more global role. 
Umang
I was very clear that I wanted to be in India, and sure I could have retired to Facebook for the next 20 years, but then what next? For me, the decision to not stick around was driven by my favourite words in the dictionary – transformation and reimagination. I wanted to reimagine a new India. And transformation starts with the self. I put in my papers in late 2017 and come 2018, I began my personal transformation journey. I brought a lot of discipline into my life – very clean food, low on carbs, high on protein. I lost weight and then built muscle. Today I sleep six hours on average. Overall I'm a far more balanced person now. I'm having more fun.
Pranav
There was a time when you used to read 30-40 books a year. Has that changed? What helps you stay current?
Umang
Somehow, through the COVID-19 pandemic, I dropped reading. There was a time when reading a couple of books a month was the norm; I'd try to meet writers and even learn directly from their experiences.
But with so many things changing so fast with the Metaverse and what have you… I'm getting a lot of reverse mentoring! The average age of employees at VerSe is 25 years and the kids here have more ideas than I do. 
 I'm just spending more time with millennials and the Gen Zs – engineers, creative professionals – and preparing the company for the next wave of Internet. Today, I talk less and listen more. And my job now is about asking the right questions, not having all the answers, because there's no way you can have all the answers.
 If you have to be in an innovation driven culture, you have got to hire people that are smarter than you and empower them. As a leader, I have to remove obstacles from their way and at times even get out of their way completely. Our people are our IP, and they hopefully come to work every day and go back home at the end of the day being happy.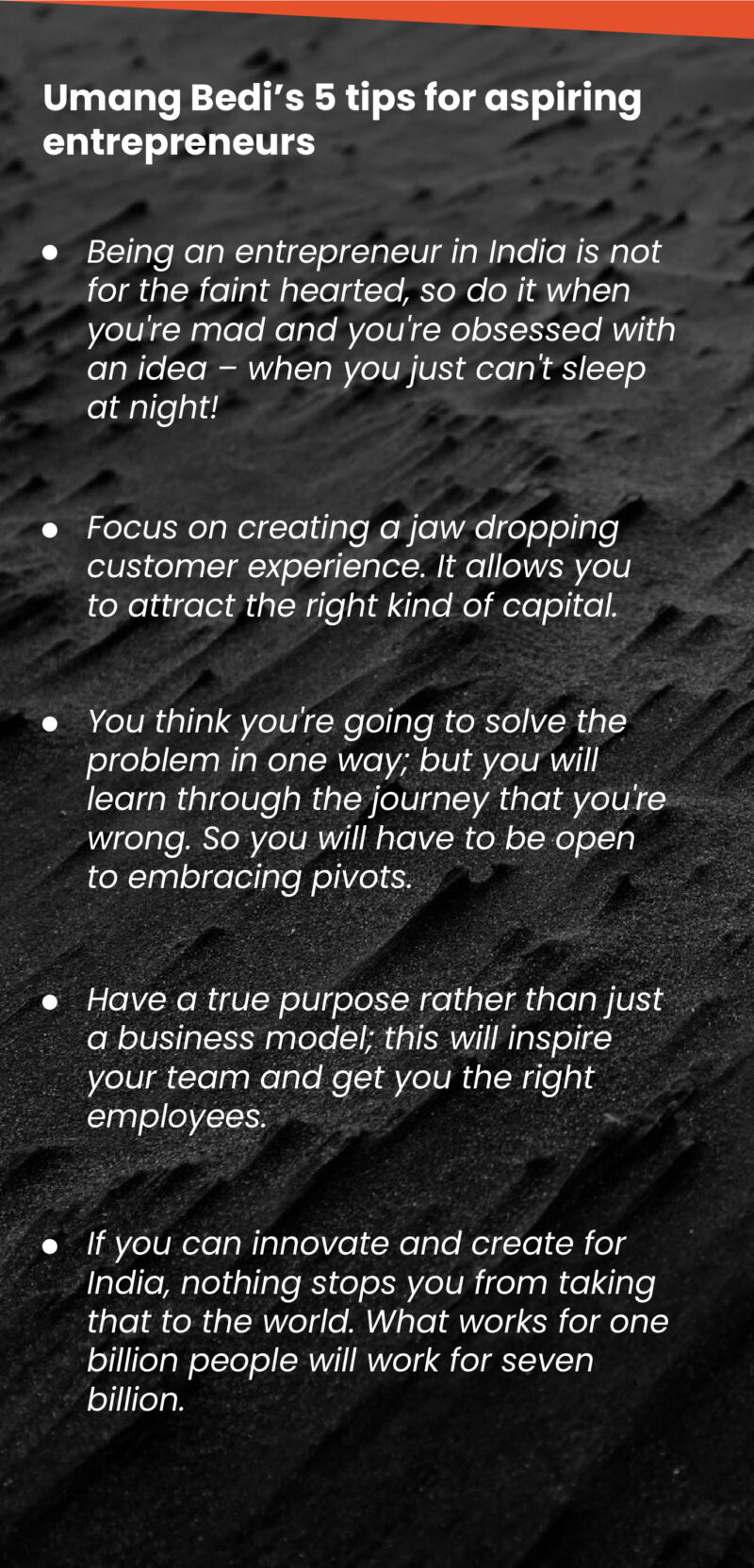 Pranav
If I'm correct, you are not the product of a fancy school. Your early journey as a business leader was led by your own gumption and of course, some luck. For someone in their 20s who wants to be Umang Bedi when they are 40, what should they do? 
Umang
First of all, don't become Umang Bedi. I see myself as a failure, I'm only 1% done, the best of what I should be doing is still to come. What I would say is, education is important but it's not the be all and end all. I stood first in class all through school and college life, I got into IIT and didn't go, later I got into Harvard Business School but I didn't go then because I was having a lot of fun and making a lot more money. Those days, different things drove individuals. Today I wish I was 20; I would do things differently for sure. 
And that, my dear readers, is what a true leader is – one who is always excited to learn, take risks, and do it all over again.
– Pranav.

ESOP & CAP Table
Management simplified
Get started for free