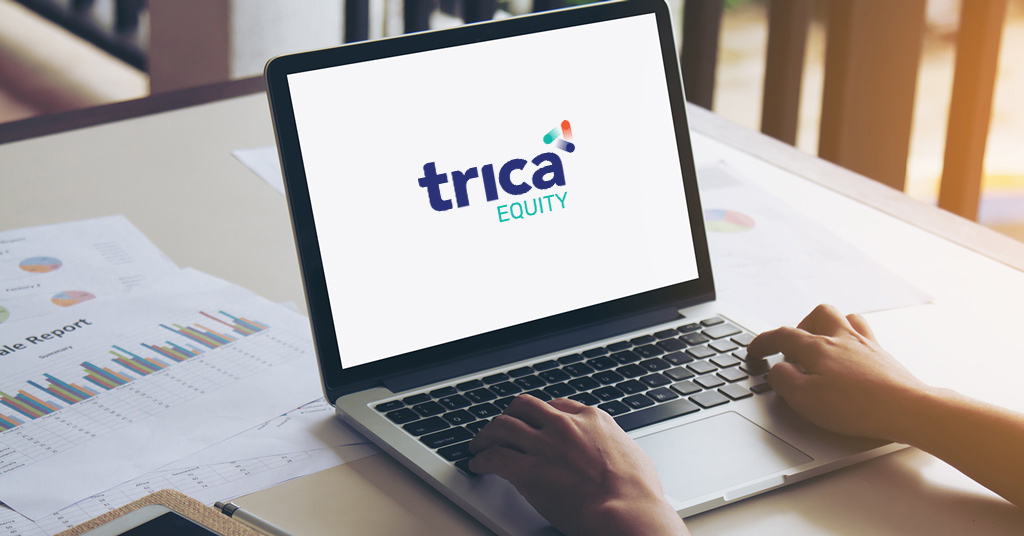 Equity management is a daunting task while maintaining business profitability and growth. Equity represents the spirit of member-ownership and must be managed effectively.
A good equity management software, also known as cap table software, helps administer the business's share ownership, obtain 409A valuation, and manage complexities associated with equity. In this regard, Carta is a popular equity management software that simplifies stock option compensation, expense management, financial reporting, and more.
But not every organization has the same needs, is of the same size, or shares future goals. So you need one that works best for your business goals without compromising on any of the robust and powerful features. Worry not! Because there are some reliable Carta alternatives that can complete all your equity management needs.
What Features to Look for in a Carta Alternative?
Here are the top  features that make trica equity one of the best Carta alternatives out there:
1. Cap table Management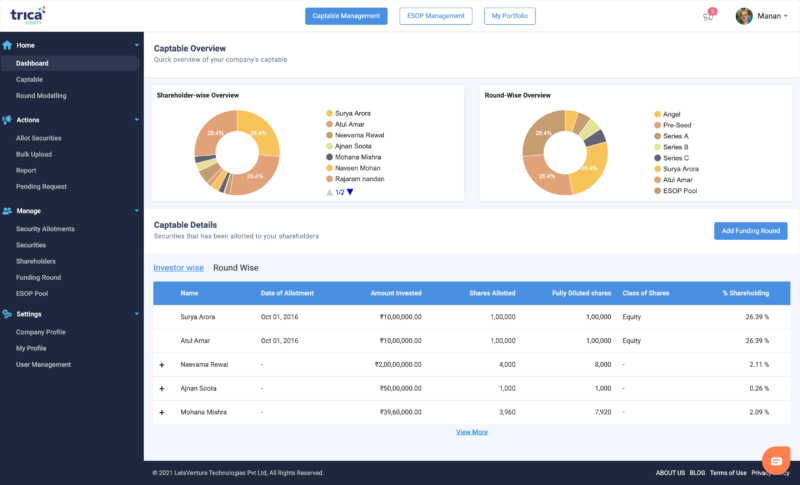 As businesses scale, managing cap tables becomes a cumbersome task. A cap table is akin to a balance sheet and includes information like ownership position, vesting schedule, purchase charts, and more.
trica equity's platform helps track and manage the equity in transactions like stock issuances, the exercise of options, conversions of debt to equity, cancellations, etc., with legal compliance.
Some of the noteworthy features are:
Issuance of digital certificates to employees and investors
Digital signatures for shareholder agreements
Instantly customizable exports in PDF and Excel formats
Users can set email notifications and set alerts
Read More: Managing Cap table on Trica Equity 
2. Scenario Modelling 
A company can use trica equity's Scenario modeling during fundraises or exits to get an instant view of what the cap table would look like if a transaction went through at a certain valuation. Multiple scenarios can be modeled within minutes to get a detailed view of how shareholding of various existing and new investors will pan out.
Some of the advantages of their round modeling include:
Key features like investor details
Convertible rate options to enhance stock option pool
Multiple inputs for pre-money and post-money valuation, date of investment, and investment amount
New version of the cap table
3. 409A Valuation
A 409A valuation is used to determine the fair market value (FMV) of a business. Broadly, it involves three steps:
Determine the company's worth (also called the enterprise value).
Allocate the enterprise value across all the equity classes to reach the FMV for the common stock.
A discount is applied to the FMV to suggest that the stock is not publicly traded. This protects the business from an audit.
Trica equity can get companies their 409A valuations very promptly. This helps them compensate employees through stock options, saves time, and improves audit defensibility.
4. Interactive Dashboard
trica equity provides a solid dashboard that helps improve the quality of financial modeling and mitigates the risk of incorrect data. In addition, the dashboard comes with essential metrics like multi-factor authentication and security, notifications for convertible rounds, vesting and valuation change, one-click conversion of Convertible Notes, CCPS (Compulsory Convertible preference Share), and CCDs (Compulsory Convertible Debenture).
The dashboard consolidates workflows in a user-friendly interface that brings together founders and CHROs, CFOs, and qualifying employees to access the software.
5. Accounting and Reporting
Equity administration needs to be simplified and streamlined at all times. trica equity's comprehensive solutions help in equity reporting and accounting, including the major components of the ASC 718 regulatory framework such as dilution, SEC disclosure, corporate tax, expensing, and valuation.
Businesses can generate industry-standard reports with customization as per any specific requirements, including those related to managing stock options. The platform also helps in:
Simplifying complex financial reporting
Minimizing risk exposure
Eliminating spreadsheets
Creating significant cost savings
6. Knowledge Hub and Webinars 
Businesses must have a clear and precise understanding of options, cap tables and stay updated with the latest changes/regulations. trica equity's resources comprise well-written and carefully researched blog posts and guides which offer clarity, advice, and up-to-date information on the happenings in the space.
The blog offers a high-level overview of the subject and delves deeper into it to make it understandable to all. You can also find webinars and online seminars to explore the state-of-the-art in small businesses and entrepreneurship.
They have, in the past, covered essential matters such as best practices for start-ups to follow and create their stock option policies; how to manage cap tables effectively, best practices that contribute to strategizing an affluent stock options policy, etc. The webinars have been a hub of critical insights, solid and convenient advice. Follow the YouTube channel for quick access to our video content.
trica equity is an easy-to-use platform that keeps companies' equity picture clear, up-to-date, and accessible to all stakeholders. Request a demo today.
ESOP & CAP Table
Management simplified
Get started for free