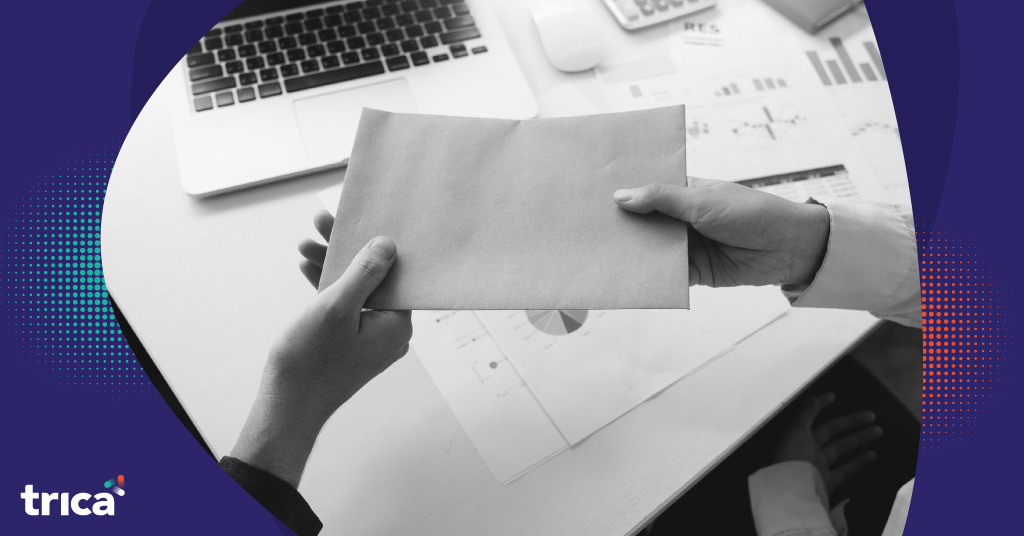 ESOP
ESOP Buyback Trend and What Lies Ahead
ESOP buybacks have been one of those things that have dominated the Indian startup environment in the past year. At a time when the COVID-19 pandemic has upset bottom lines for a few startups while leading to extraordinary growth for others, startups across sectors are on an ESOP buyback spree to reward their employees.
While employee stock ownership plans (ESOPs) have been included in compensation packages offered by new-age tech startups for several years, opportunities for employees to realize their real value have only recently started mushrooming, with companies offering ESOP buyback events to allow them to liquidate their holdings.
Flipkart, the e-commerce giant, started the trend in 2018 when it had reserved $500 million to buy back ESOPs from employees. Since then, nearly many startups have conducted buyback programs, with some of them carrying out multiple rounds. Of these, maximum ESOP buybacks took place during the Covid-19 pandemic outbreak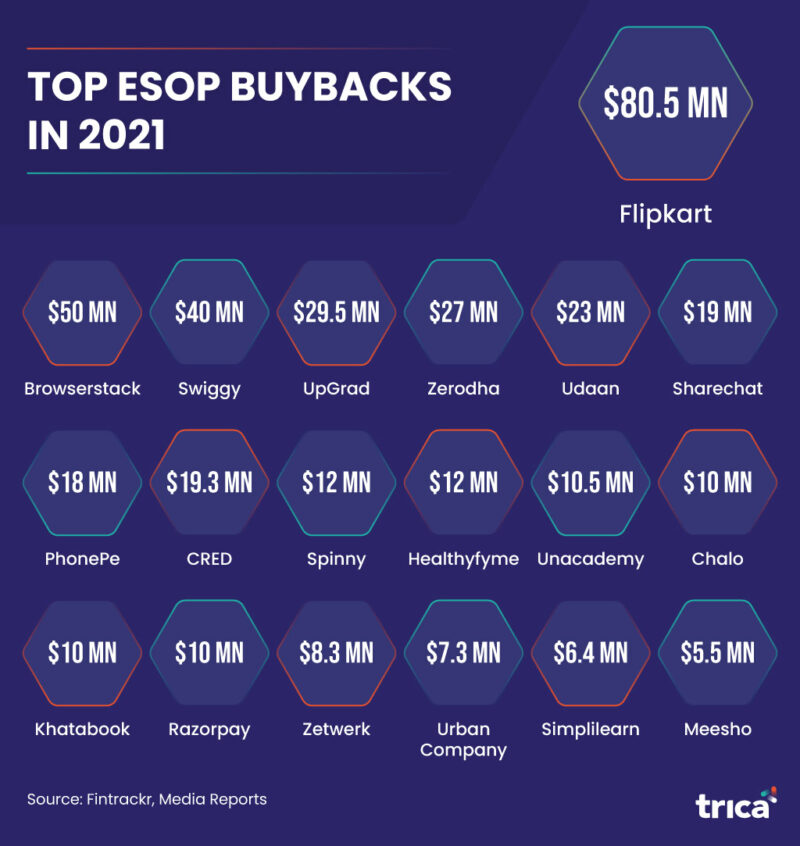 What is ESOP Buyback?
Employers can buy their employees' vested shares under the ESOP buyback plan. Employees can be compensated for their contributions to the company's growth through ESOP buybacks.
Startups use ESOP buyback under specific circumstances, such as when they need to secure a large slice of stock for future negotiations or when the founders wish to replenish their ESOP pool without further diluting the company's equity. It all depends on the situation and the growth strategy of the startup.
The Trend of ESOP Buyback in India
Employees are encashing their vested shares and turning them over at a premium as ESOP buybacks increase, allowing them to reap the benefits of their company's success. Startups are reaping the program's benefits by retaining ownership control and only allowing cash to leave the system when they can.
The ESOP Buyback Marathon by Startups
Let's look at some of the latest ESOP buybacks from startups that have perfected their work systems to the point where they can start such a program in a pandemic.
1. Simplilearn
Simplilearn had launched its first ESOP buyback in November 2021, valued at Rs. 48.74 crore (US$6.4 million). This is the first time the company has bought back ESOPs, and it was done as part of Blackstone's recent investment earlier this year.
As part of the buyback, the company allowed active employees to liquidate up to 25% of their vested ESOPs, with 65% of active employees with ESOPs liquidating their options. Simplilearn then rewarded all these employees with additional new ESOPs in exchange for their sustained contributions to the company's growth.
2. Urban Company
Urban Company, a home service marketplace, has completed an ESOP buyback scheme of Rs 55 crore ($7.3 million). Since its start, the Gurugram-based firm has undertaken four ESOP liquidity programs.
The most recent acquisition was completed at a $2.8 billion valuation, according to Urban Company. The buyback size  is not substantial; however it stands out for the 33.33% premium over its last valuation
3. CRED
Fintech CRED stated on November 8, 2021, that it will buy back up to Rs 100 crore in ESOP) shares. This follows the launch of CRED's Accelerated Wealth Program in August of this year, which aims to help employees develop wealth.
As of October 31, 2021, team members with vested options will be able to sell a portion of their vested shares as part of the repurchase. After raising $81 million in Series C funding, the startup completed an ESOP buyback for Rs 9 crore ($1.2 million) in January 2021.
4. Ninjacart
Ninjacart, an agricultural produce B2B marketplace, announced in January 2022 that it has implemented an INR 100 crore (approximately $13.4 million) ESOP buyback program. Employees who have vested ESOPs as of December 2021 are eligible to sell all of their vested ESOPs.
The move is intended to assist the startup in attracting and retaining top employees while also supporting the company's objective of developing technology and infrastructure for farmers, consumers, retailers, resellers, and other supply chain partners. This ESOP buyback was Ninjacart's second, first taking place in 2019.
5. HomeLane
HomeLane, a home interiors firm, has announced an ESOP buyback scheme of INR 27 crores, its second of its kind.
Liquidity was available to both current and past HomeLane employees with vested ESOPs. Former employees were given the option to sell up to 100% of their stock, while current employees could liquidate up to 35% of theirs.
Less than half of active employees' ESOPs eligible for liquidation were liquidated.
6. Unacademy
The learning platform, Unacademy, had announced a $10.5 million ESOP buyback scheme for current and former employees and educators. This is Unacademy's third such liquidity event in the last three years and its largest.
A specified scheme allows eligible ESOP holders to liquidate between 20% and 100% of their vested units. The latest buyback pool is expected to be $10.5 million in size, determined by the number of ESOPs liquidated by educators and employees.
7. Zetwerk
In March 2021, Zetwerk, a custom manufacturing marketplace, liquidated its ESOPs worth $8.3 million and were held by employees and early investors. In three rounds, a major portion of the company's 400 employees took part in the liquidation process.
This initiative began after the business raised $120 million in a Series D fundraising round led by Greenoaks Capital and Lightspeed Venture Partners in the United States. Sequoia Capital and Kae Capital, two of the company's current investors, also took part in the round. Since its inception in 2018, the company has raised $193.7 million.
8. Wakefit.co
Wakefit.co, a D2C sleep solutions company, announced an ESOP buyback program worth INR 15 crore in January 2021. The planned idea is expected to generate riches for 15-20 top staff.
This decision was made following the startup's INR 185 crore Series B funding round, which was headed by investment management firm Verlinvest and Sequoia India Capital. The home-solutions company will also add 50-60 additional employees to its ESOP pool to broaden the benefits of stock options to a greater number of employees.
9. Cashify
In March 2021, Cashify unveiled its first-ever employee stock ownership plan (ESOP). Employees will be able to liquidate up to 35 percent of their vested ESOPs under a $1 million buyback plan.
This move was made after receiving $15 million in funding from Olympus Capital Asia in New York. Cashify believes it will be a wonderful method to unleash value by retaining people and contributing to their wealth building.
10. Vedantu
Vedantu, an online learning platform, announced a USD 3 million (about INR 22.4 crore) Employee Stock Ownership Plan (ESOP) liquidity initiative in November 2021.
Top management and qualifying active employees who have completed the vesting period could liquidate their vested ESOP shares under this program.
ESOP Buyback: The Way Ahead
ESOPs have become more mainstream in India, and they are expected to become a larger part of employees' pay packets in the future.
As the economy recovers from pandemic-related restrictions, ESOP buybacks have become a popular approach for companies to incentivize employees looking for new possibilities that provide growth, higher compensation, wealth creation, and working from home.
Employees view the prospect for wealth creation as real as buybacks are taking place — in contrast to the common myth that if a company allows ESOP buybacks soon, employees will sell and leave, they stay longer and do not sell their options in a hurry.
The recent spate of buybacks by some of the most well-known startups will assist improve employees' awareness of the monetary value proposition of ESOPs in compensation packages. As a result, companies may be able to reduce employee turnover since employees are likely to stay with the company for longer periods to cash in on their holdings.
trica equity is a unified technology platform for equity management and growth stage transactions. trica provides solutions to build and manage ESOPs, which enable companies to retain their star talent and keep teams motivated, save time by doing away with endless paperwork, and customize their ESOP plan and effortlessly run buybacks.
If you are looking for an easy-to-use tool to create your ESOP policy and manage ESOPs for your team, check out trica equity.
ESOP & CAP Table
Management simplified
Get started for free