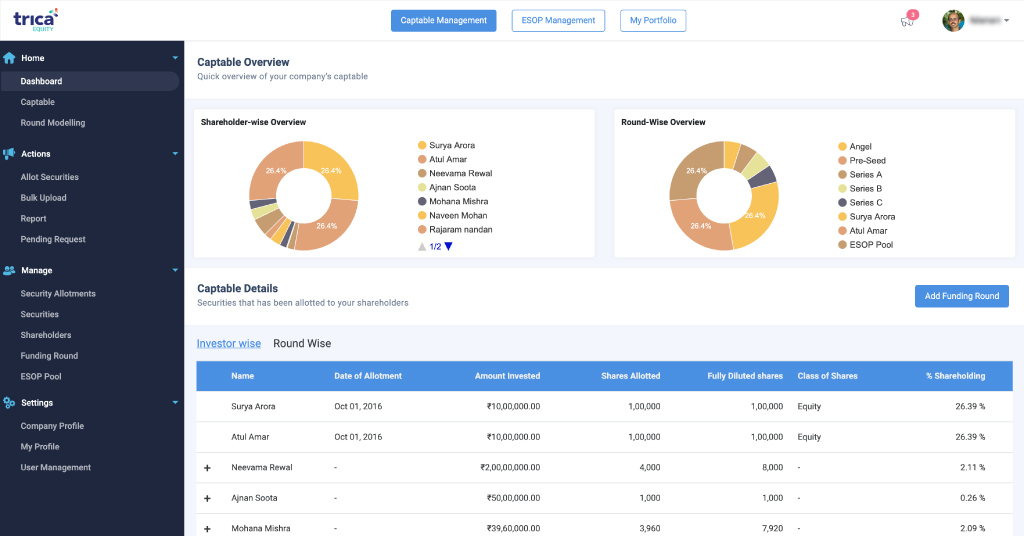 Raising sufficient funds to kickstart a startup is the most prominent challenge entrepreneurs face. However, the financial concerns do not end with raising funds. Once founders have the financial means to get the business rolling, the next focus should be on managing the equity of the company. To do so, founders rely on the capitalization table or the cap table.
An organized cap table is essential to make future financial and administrative decisions. However, maintaining a cap table all by yourself can be a daunting task. At the same time, you might not want to hand over the reins to oversee the company's ownership and management-related issues to someone else. That's why cap table management software is a savior for startup founders, at all stages.
In this blog you'll find out everything you need to know about cap table management software and the top three benefits of using one.
What is a Cap Table?
A cap table is a record of the equity ownership of your company's shareholders and a detailed report on which investor owns what percentage of your company stocks.
It also holds quite a few other finance-related information that no founder should ever miss out on. Some of these categories of information and records include:
Stock Sale
Transfers
Stock ownership
Exercises of options
Conversions of debt to equity
A cap table is more than just a spreadsheet holding information on your company's stockholders and that's why founders often seek help to manage these complex ledgers through a robust cap table management software.
Why Do You Need an Organized Cap Table?
An organized cap table helps you keep all your financial exchanges and transactions in one organized space. For example, when a company is in its growth phase, plenty of investors will enter the company. At the same time, you might offer a share of stocks to star-performers on your team to retain quality talent.
All of these add to a substantial administrative burden. In this case, an organized cap table helps you record all these transactions so that you can use this information for future financial decisions like equity ownership, market capitalization, and market value. It also helps you be more transparent about your cap table, which is very helpful for business owners in building trust among stakeholders.
Benefits of Using a Cap Table Management Software
Having an efficient cap table management software to keep the cap table organized and updated makes it easier to focus on the other essential aspects of the business.
Here are the top ways a cap table management software can benefit your processes:
1. Secured Vault For Important Documents & Digital Assets
Your cap table includes some critical information on your company's ownership, including shareholders' information. You cannot afford to misplace or let anyone tamper with this data. Imagine sitting down to negotiate a deal with a prospective investor, and the numbers of your company's equity ownership have been tampered with. It can be an instant disaster.
Fortunately, the best cap table management software is end-to-end encrypted and provides all-around security so that no one can tamper with your company's sensitive data.
2. Round Modeling Helps Choose The Right Investment
The in-built round modeling feature of cap table management software helps you oversee the extent of cap table dilution that might occur if you accept new investments. This feature will help you make critical decisions on new investors and assets.
The external investments that you allow in your organization greatly impacts your business's valuation, equity and future operational initiatives. However, since different investments come with different sets of rules, the benefit that brings to the table will differ. In earlier times, going through all the offers on the and choosing the right one can be an overwhelming task.
That's where the cap table management software steps in. The software allows you to find out which investor has the best offer for your organization within minutes.
3. Customizable Dashboard
Cap tables are not simple spreadsheets where you keep track of your financial and stock transactions. This involves a complex degree of legality and significance for your company's future. Manually creating a cap table is difficult, but keeping it organized all by yourself is an even more arduous task.
The cap table management software comes with a customizable dashboard where all the critical metrics of your cap table are displayed in a sequence and divided into categories. So, you don't have to go through the hassle of searching for the information you are looking for because the software will synchronize everything.
If you feel that keeping track of the cap table alone is getting more challenging than you thought, then you can also add high-level executives of your company to help you manage it. The best part here is that the ultimate power is vested in the founder. Hence, you get to assign roles (viewer, editor, super admin, etc.) to each member you invite to manage the cap table and decide their level of authority over it.
Other key features to look for in a cap table management software are:
Ease of use: It should streamline your operations and not come with a huge learning curve.
Compliance: The tool should help you achieve compliance with relevant regulations and taxes without further professional legal assistance at each step.
Sandbox system (for your testing)
Multiple geo/currency support if your investors/employees span across the globe and if you plan to expand.
Multi Factor Authentication (MFA)
Audit Log (for tracking all changes)
Tighten the Reign Today  
A well-managed cap table can open your doors to hundreds of potential investors that can help you take your business to the next level.
We have the right tool for you if you are looking for a cap table management software that offers all the perks mentioned above and a lot more additional features.
Talk to our experts at trica equity and book a demo today for a world-class experience with India's finest cap table management software.
ESOP & CAP Table
Management simplified
Get started for free