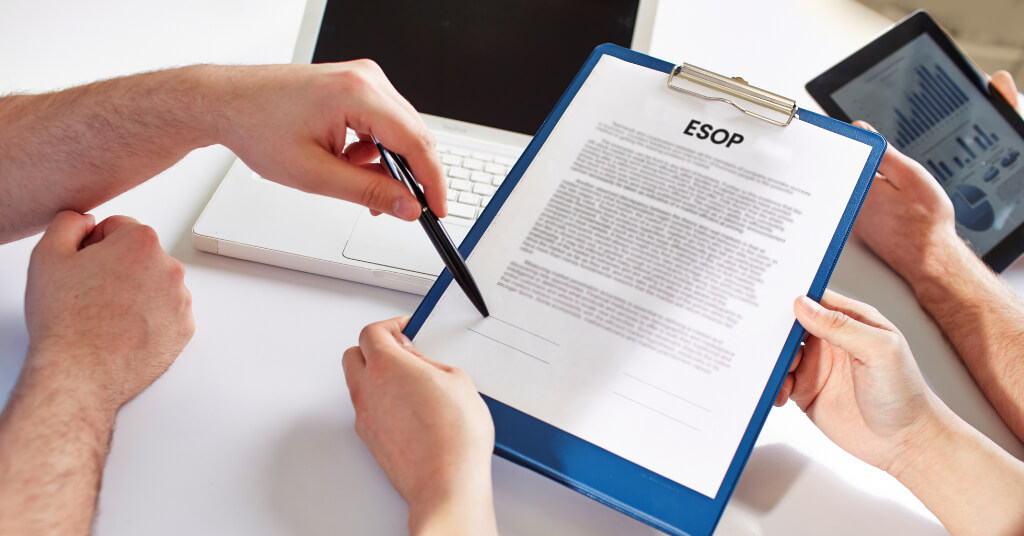 ESOP
Is Granting ESOPs to Independent Directors Beneficial?
ESOPs are an excellent compensation tool used to motivate employees and retain top talent. But a common question is: Can you give ESOPs to Independent Directors (IDs)? In this article, we explore the role and legality of IDs and the upsides and downsides of granting ESOPs to them. To know more about ESOPs, click here. 
Who Are Independent Directors and What Role Do They Play In a Company?  
Independent Directors are managerial experts with experience, who participate in drafting the business strategy and the company's management. They are not employees of a company, nor are they restricted to being IDs of only one company. Their opinions are valued due to their expertise and diverse experience. They are termed as 'independent' since they do not have a stake in the operations, management, or other aspects of the company's functioning or financials.
Legal Definition
The law mandates companies to have at least one-third of the total number of directors as independent directors, defined as 'a director other than a managing director, a whole-time director, or a nominee director.
A few conditions that need to be satisfied are:
The board of a company needs to have a reasonable belief that the Independent Director can contribute effectively to the betterment or functioning of the company.
The Independent Director should not be the promoter of the company or any of its holding or subsidiary or associate companies.
There must be no monetary relationship between the ID and the company in any other way other than that of being an ID, i.e., the ID must not be a lender, borrower, vendor, debtor, guarantor, or have any other financial interest in the company.
Compensation of Independent Directors 
Since Independent Directors are not employees of a company, they do not receive a salary. Instead, their compensation is structured using one or more of the following three channels:
Fee: IDs receive a sum known as Sitting Fees. This is the compensation for attending (or 'sitting in') a board meeting. This fee must not exceed Rs 1 lakh for each Board or committee meeting that an ID attends. Such an amount should be equal to the sitting fees paid to the other directors.
Reimbursement of expenses for attending a meeting: Any expenses incurred by an Independent Director for attending the meeting can be reimbursed. Although this is not a form of compensation for the director's time and guidance, reimbursement of expenses is considered part of the compensation package. Such expenses include travel, accommodation, and any other expense incurred to attend the company's Board or committee meetings.
Profit-linked commission: A small percentage of the profits made for a particular period is shared as remuneration for the service of IDs since their valuable suggestions contribute to the business and financial performance of the company, which are reflected in its profits. Such a commission is capped at 1% if the company has a Whole-Time Director or a Managing Director and at 3% if the company does not have either of the two.

What are the recent changes in laws about granting ESOPs to IDs? What is the upside and downside of such changes?
Until recently, the Companies Act and the SEBI Listing Obligations and Disclosure Requirements Regulations or LODR prohibited Independent Directors from being entitled to ESOPs since their independence would be compromised.
In March 2021, the Securities Exchange Board of India (SEBI), the primary regulator of financial markets in India, published a consultation paper containing amendments based on a review of the legal provisions regarding the company's Independent Directors. These amendments include changes in the remuneration of IDs and now allow ESOPs to be granted to them. 
This move has received mixed reactions from industry stalwarts. Keki Mistry, the CEO of HDFC, and M.Damodaran, the former Chairman of SEBI, were in favour of granting stock options to Independent Directors, right from early 2017. However, Neeraj Dubey, partner at law firm Singh and Associates, said that "The moment you incentivize independent directors with stock, they become a stakeholder in the company, and this could lead to their independence being diluted."
Benefits 
"The moment you incentivize independent directors with stock, they become a stakeholder in the company, and this could lead to their independence being diluted." – Neeraj Dubey, partner at law firm, Singh and Associates.
ESOPs were created with a focus on top-level employees. Independent Directors are on par with the Board members in terms of their knowledge and experience. Even if they do not have an employer-employee relationship with the company, unlike employees, compensating them with ESOPs will ensure that reliable IDs are available for the company for a long period. This is a huge advantage of granting ESOPs to IDs. To understand how ESOPs are beneficial, click here.
The Core Concern
The concept of Independent Directors was first introduced because of the need for the expert opinion of individuals who have no vested interest or any relationship with the business. This ensures that the appointed directors are truly independent, and there is no scope for being influenced by other motives, apart from the health and performance of the company.
If IDs are granted ESOPs, they also become potential shareholders of the company. This might lead to a situation of conflict of interest and is something to consider before allotting ESOPs for IDs.
Mitigating the Risk
To strike a balance between the crucial role of Independent Directors and the lack of an employer-employee relationship, it is suggested by SEBI to have a minimum vesting period of 5 years. This will ensure that the purpose of an ESOP is met while protecting the company's operations and accounts from being manipulated for the immediate benefit of potential shareholders.
To Sum Up
By including ESOPs in the compensation package of Independent Directors, companies stand to gain the loyalty and valuable expertise of professionals. Like SEBI says, IDs have more 'skin in the game', which will improve their quality and commitment to a company. The latest legal provisions have included provisions to add a layer of protection to the company and its stakeholders against any risk pertaining to granting ESOPs to IDs. This is a move to be welcomed and adopted by organizations.
---
trica equity offers all valuation services at a premium. Check out now!
ESOP & CAP Table
Management simplified
Get started for free