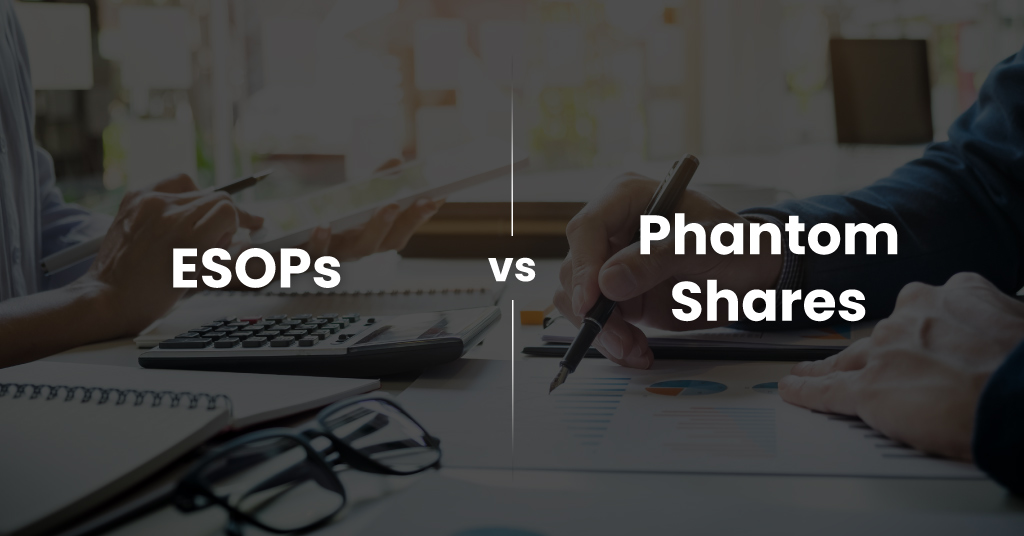 Stock options
ESOPs vs. Phantom Shares: What Makes More Sense for Your Business? 
In today's entrepreneurial scenario, companies understand the importance of human resources. Rightly so, they're rewarding employees with share-based incentives like employee stock option plans (ESOPs) and a relatively new way of allocating shares – phantom stocks and stock appreciation rights (SARs).
Of these attractive employee benefit plans, phantom shares are becoming increasingly popular compensation, offering more flexibility and customization.
This article will probe ESOPs vs. Phantom Shares, and discuss what is better suited for the needs of your company and employees.
What are ESOPs? 
An employee stock option plan (ESOP) is one of the various incentives offered to employees via stock options. The participating employees exercise the eligibility to buy shares of their company for a predetermined price and date, as mentioned in the grant letter.
ESOPs can lead to significant financial gains for employees with the rise in the company's valuation. In addition, during a liquidity event, they can cash out their shares at the selling price.
Some popular ESOP plans are:
Employee Stock Option Plan
Employee Stock Purchase Plan
Restricted Stock Units
Stock Appreciation Rights
Are ESOPs right for your company?
The critical issues for companies, especially start-ups, sponsoring an ESOP to revolve around the number of employees, net income, and annual revenue. By assessing each factor, companies can decide whether to go for ESOPs. Furthermore, the cost of setting up and managing ESOPs is substantial and might not be favorable for all.
ESOPs are great for companies who want to have a cadre of owners involved in the value sharing and ownership as part of the company growth.
Some start-ups in the initial days can also prefer employee stock options in case of uncertainty of sustained growth to retain employees.
Read more: Best Practices for Giving Out ESOPs
Benefits of ESOPs
Employee retention by promoting a feeling of ownership and accountability.
Enhances organizational performance by benefiting the company.
What are Phantom Shares? 
Phantom shares are part of an employee benefit plan that gives participating senior-level employees the perks of stock ownership without receiving any stock. Also known as shadow stock, synthetic stock, or simulated stock, phantom shares are stock-appreciation rights.
The plan confers the right to receive cash payments in the future and is typically tied to a valuation formula. The value of the cash settlement could be:
Appreciation only plan, where the recipient receives cash, equal to the value of the growth of the share value until the settlement date or during the measurement period
Full value plan, where the recipient gets the complete value of the share on the settlement date
Are Phantom Shares right for your Company? 
Many start-ups and organizations realize the ramifications of various plans of providing stock to employees. Phantom shares are a perfect fit for them, especially non-profit organizations or closely-held businesses, where the need of tangible equity is not feasible or practicable.
When an employee is given phantom stock, a "delay mechanism" kicks in, causing the actual financial distribution to be delayed for a long time.
Start-ups or companies expected to experience an increase in value in the near future can also benefit from phantom shares. For neither the participating employees nor the management will have to bear costs until the time of execution.
Employers who want to minimize minority stakeholders and stimulate employee ownership can find phantom shares to align with company goals and retain talent.
Benefits of Phantom Shares
Simplified allocation of shares, since participants are not shareholders
They are flexible, as the management determines the terms and conditions
The plan helps avoid complications of financial disclosure, which is advantageous when there are legal concerns
Retention of key employees, making employees invested in the company
Low set-up cost and regulations, therefore less hassle
ESOPs Vs. Phantom Shares – Which One to Go For?
The financial benefits of ESOPs and phantom shares enrich both employees and employers. Therefore, considering company goals, the plans need to be chosen and drafted carefully to protect the interests of the employers and shareholders.
trica equity is a full-stack cap table platform that helps companies make intelligent decisions about their equity and track ownership. Give us a call today to get started!
ESOP & CAP Table
Management simplified
Get started for free