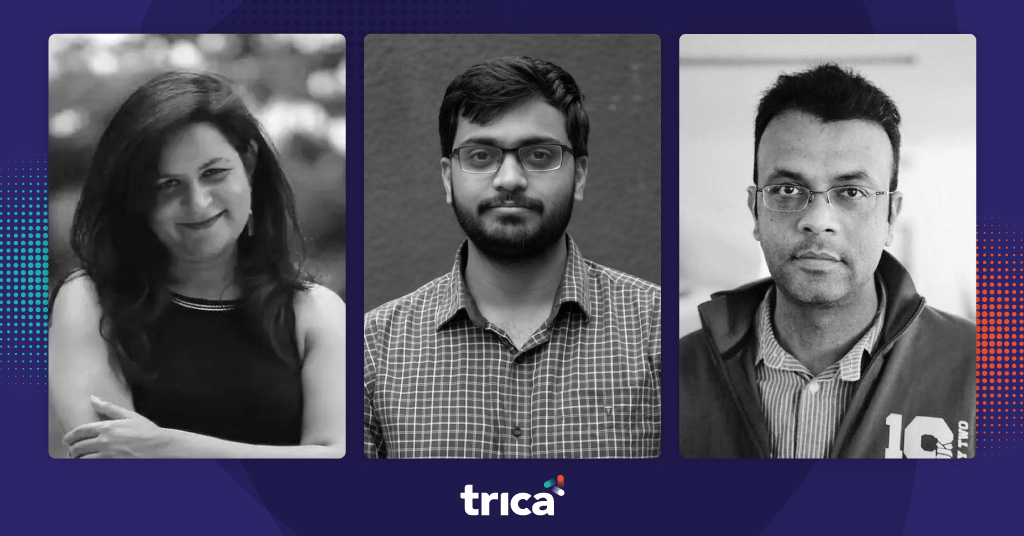 ESOP
ESOPs: Real People, Real Stories–in Conversation With 3 Founders
ESOPs are critical to effectively and fairly compensating employees at any startup. An ESOP plan incentivizes employees and drives growth at an organization. However, there are many approaches a startup can choose from when it comes to ESOPs.
Since ESOPs play such a critical role in employee retention, we at trica equity brought together  three successful founders to understand  their take on the subject.
As a part of the trica equity: Connect 2021, we spoke to Priya Sharma,  co-founder of popular fintech platform ZestMoney; Kartik Mandaville, co-founder of HR-tech startup Springworks; and Deepak Abbot, co-founder of gold-loan platform Indiagold.
They share their two bits about their approach to ESOPs and how it helped them succeed.
Hows and Whys of ESOPS in India: Key Takeaways from trica's Discussion with Three Successful Founders  
These founders have been on the ground zero of India's startup ecosystem and have navigated their way to success. One of them implemented ESOPs when it was hardly known in India.
As a result, their experiences are a valuable source of knowledge for aspiring startups and co-founders who are planning to, or already have an ESOP pool ready:
#1. Use ESOP as a long-term retention tool
Priya Sharma's journey with ZestMoney started back in 2015. At the time, the term ESOP was relatively unknown and hardly used in India. Usually, ESOPs were reserved for senior employees.
In contrast, in markets like the UK, employees of early-stage startups would take significant pay cuts if compensated through ESOPs.
In line with the times, ZestMoney was selective about which employees would be offered ESOPs. Usually, senior employees engaged with the company's business side were additionally compensated with ESOPs.
"We want to make you (the employee) a shareholder and therefore we want to give that shareholding to people who actually understand and value the shareholding rather than someone who just thinks of it as a bonus or a referral bonus or a cash bonus or a special value bonus," says Priya Sharma. 
In contrast, those on the engineering side of the company were hardly aware of ESOPs and were not very interested in being compensated with them as well.
But nowadays, everyone wants and talks about ESOPs. So, ZestMoney gradually started expanding its ESOP pool and raised awareness within the organization.
Today, ZestMoney provides ESOPs to employees who value the shareholding that comes along with it, rather than just looking at it as a "bonus." At ZestMoney, employees are compensated with ESOPs only if they want it. ZestMoney uses ESOPs as a retention tool for the long-term. 
#2. Structure ESOPs to avert tax impact during vesting
Many employees want ESOPs, but they're apprehensive of the taxation that comes along with it. Even though ESOPs are an excellent tool for employees to incentivize and align themselves with their goals, the tax burden is a real issue.
If the company derives most of its revenue in India and the employee holding an ESOP resides in India, the person's ESOP is liable to taxes in India.
So, ZestMoney structures its ESOPs so there is no tax impact at the time of vesting shares. The tax impact happens only when exercising the ESOPs and during a sale event. Even then, the tax impact is significant unless the ESOP is categorized as long-term capital gains, which attracts a lesser rate of interest.
Another issue with ESOPs is that they are inherently risky.
"ESOPs are risky, because not every startup will be able to create wealth in the long term for their employees," says Deepak Abbot. 
According to Abbot, the tax rate for ESOPs should be lowered due to the high risk that ESOPs entail. This makes many employees skeptical about exercising ESOPs. 
"So one option to solve this is even when they quit, don't give them an outer window or 15 days, 30 days, 60 days. Give them a very long window. It could be two years, three or five years to exercise," adds Abbot.
#3. Harness the hype
In India, the discussion around ESOPs has grown exponentially in recent years. Therefore, you can safely say: ESOPs have become trendy in the startup  landscape. 
Today, almost every startup in India talks about how their ESOP scheme is good and is a large part of their compensation structure. As a result, ESOPs add to the 'cool quotient' of working with the org.
As Kartik Mandaville notes, ESOPs work as a hiring tool. Employees should negotiate with their employers to be fairly compensated for their work towards building the company. This usually means getting more ESOPs as part of the remuneration package rather than relying on upfront cash payment.
"In most early-stage startups, your contributions are directly related to the growth of the company," says Kartik Mandaville. 
As Kartik says, you can believe in the company if you believe in yourself since your contributions will play a significant factor.
But a large part of giving out ESOPs is also  is managing expectations amongst employees on both the  the potential upside and downside.
We hope you enjoyed this discussion by trica Equity about ESOPs. Stay connected for more such discussions in the future.
Book a demo to learn more about our offerings if you're looking for ESOP and cap-table management assistance.
ESOP & CAP Table
Management simplified
Get started for free